A Question about Tarot Readings from Avia Venefica
Hi Avia,
I love your work, and have been a visitor to TarotTeachings.com since you launched it in 2007 (I've been following your whats-your-sign.com site for a long time too).
As I really relate to your view on Tarot, I started searching your site for a way to get a Tarot reading from you.
In so doing, I discovered you no longer give Tarot readings.
Could you explain why?
Tamara (an American in London)
Avia's Response to the Question:
"Tarot Readings From Avia Venefica"
Hi Tamara,
Thanks for your support all these years!
It is true, I am not currently giving Tarot readings.
Why? Great question, and thanks for asking.
Past experience has made me lose my enthusiasm for reading Tarot for others because it misplaces power. Too often, people look to me for answers, when really those answers are within. And, although I encourage a path of self-knowing & growth in every reading – there is still a misplacement of authority. I tell people, "I am not the power, you are. Tarot is not the power, you are."
This is why I love writing and speaking about the Tarot (and its symbolism) to encourage people to stoke their own inner flames.
Speaking and writing about the Tarot is a better way to accomplish my objectives, which is to sweep away common misconceptions about the Tarot, and inspire folks to view the Tarot with different eyes.
Meaning…to recognize the power is from the human heart – not the Tarot. To show them Tarot is a tool and what we do with it can help us along the way to reach our maximum human potential.
This may change in the future, and I will let you know the minute if and when I start reading again. In the meantime, you can read up on how to find the best psychic for your tarot reading here.
I'm grateful for your support, and for your understanding. Thanks also for your question!
Brightly,
Avia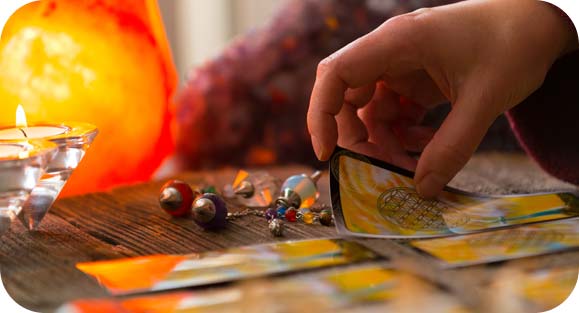 Comment on "Tarot Readings From Avia Venefica " Question
From:Julie
Hi Avia, I just read your reasons for not giving readings, and I admire your devotion to the true purpose of tarot. Julie in South Dakota
From:Haryashwa
Avia, You are not only a beautiful person, but also very sensitive in contrast to the strength you possess. You are so adorable! Thanks for publishing your insights! They are rich with wisdom!
From:Daniel
Hi Avia,
I've received several Tarot readings from you. Once in 1996, and another in 2001. Both readings were incredibly insightful, and very helpful to me in navigating through life events.
Even as early as the '96 reading, I remember you encouraging me to find answers from within. I also remember you telling me the Tarot (and you as a reader) were only offering one representation of the Truth, and the TRUE truth was within me. Furthermore, you told me I the power to not only identify the clear Truth, but also direct the Truth in my life for future advancement.
Although I understand your reasons for no longer giving private Tarot (or symbolic) interpretations, your choice saddens me.
There are some people in this world who are natural liaisons between the physical and spiritual realms. You are one of these natural-born liaisons. To deny your natural gifts and ability seems to me, counterproductive.
Perhaps you could be more selective about who you offer your interpretations to. There are some people who will never understand the dynamics of energy or power. Some people will always place the onus of responsibility on you (the Reader) rather than within themselves. Some people just can't grasp their role as divinely creative.
To these people, refuse your gifts. But to those of us who understand the power to see, to change, to shift is indwelling – these people could use your insights for further development. These kind of people know the dynamics of power, and could still use your help in terms of clarity.
Whatever the case, my gratitude is to you for not only offering me the clarity I needed in '96 and again in '01, but for all the wisdom you share on the Internet.
From:Gaia
I fully understand your reasons for not reading the cards for folks…what you do is teach and write about the Tarot for people to become their own teachers….give us a fishing rod instead of giving us the fish….the only real answer for anyone is not found in the guru, but in the Self..to each his own….That said, thanks a lot Avia, I have read several different books, and use several websites for my Tarot info, and I must say that your writing clicks for me, it is where I learn most because you stimulate my own creativity with direct, thoughtful language…keep up the great work!
From:Pamela
Avia, I read your response to why you no longer give tarot readings and I agree with what you say. I've only had one tarot reading done for me before and now I prefer to do my own readings. For me true insight (into my life) comes from developing my own self-awareness of my personal symbology. I am the most equipped to access what something means to me, and I guess this is what you mean by the power lying with yourself.
Tarot cards are the best thing I have found to trigger and access my personal symbology. I have to say a big, grateful thank you to you for your Tarot Teachings website because it is one of places I always return to, to open my awareness of what symbols can mean, and understand more about Tarot. It has helped me uncover meanings I've been unable to articulate, or to reveal aspects of myself that I've been unaware of.
So thank you Avia! And bless you.
From:Dia
Hey Avia,
I just love your websites.. There is nothing about tarot that's not on your site!
I love that no one has to pay to gain tarot knowledge from you… Rarely do u find such people… Great work… Keep it up.. God Bless you…
Love & Regards
Dia
From:Nikhil
I have been a recent follower of your tweets as well as your teachings here and your other sites…Your not giving readings is a personal decision and I respect you for that..but the one thing i genuinely adore is your sharing knowledge without charging…hats off for being a true tarot preacher…and yes lest i too forget your site is very knowledgeable..!!
From:White Swan
Boy! I resonated with your experience. Sometimes to find the right boundaries and container in your own life to offset the service to humanity a psychic gift entails…… Well,…. I call it spiritual gunslinging and it is a Sisterhood. It does require long periods of rest and recuperation and durn it just hanging it up after a time. Its funny in my own life how it always comes back as a message from the Deep. A friendly lift by the scruff of my neck to get back to helping people. I love telling the story back to people of what they already know. I think thats a holy deed…. Storytelling as NeuroLinguisticProgramming….
Helping myself at the same time. Like your site did today for me.I came upon it as an oasis. On my dusty travel from inner town to inner town. I feel a bit like a skinned baby this last while and thought I'd learn Tarot all over again , and there TAROT TEACHING was!! Thanks for the opportunity to respond .And for providing the resource for my healing journey.
From:Avia Venefica
Aw shucks. You sweet peeps are awesome. Thanks so much for the positive feedback and support. YOU ALL ROCK! xoxo
Big beams of light,
Avia