Have you ever got to a point in the story you're writing, and you just don't know where to go with it? That's the point where a lot of people would simply hang up their pen and call the story unfinished, maybe even moving on to the next one. However, you shouldn't give up on the story so easily. In fact, there are some great tools for helping you overcome writer's block, and that includes the tarot. Here's how you can use that tool to overcome challenges and make that story even better.
Tarot and Writing
Tarot cards have a reputation, and that spooks a lot of writers. They are used in divination, but they aren't inherently 'mystical' on their own. In fact, they're just pieces of cards with pictures drawn on them.
The cards all represent different stages of life. In fact, the whole spread encompasses birth, life, and death. As such, you can find a whole lot of inspiration in them.
If you're dealing with a writing block, then you can grab a pack of cards and see what comes out. It's a little like using writing ideas cards, except you'll need to intercept what's on the card for yourself. There are lots of different ways you can do this, so you'll need to pick a method that works for you.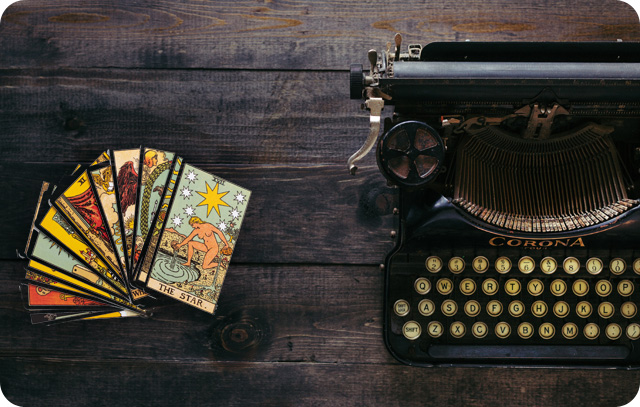 Pull A Card
The simplest way to get an idea for your story is to just pull a card from the deck. Shuffle the deck, and simply pick one out at random. If one falls out, take that card and see what's on it.
Before you go looking for the manual to see what the card means, take a look at it and the images on it. What does it say to you? How does it make you feel? This is important, as you'll probably get ideas just from this.
It's a good idea to have a question in mind as you're pulling the card, so you have an idea of what you're looking for. For example, you can ask "What does this scene need?" That way, you're open to any answers that may show up on the card you pull.
You can also use a card pull as a writing prompt in itself. Not sure what to write today? You can pull a card and see what comes out. You'll be surprised at what shows up to you on that card, and you can get writing. Who knows, it could be the opening to a whole new story that you hadn't even thought of.
Three Card Spread
A popular tarot technique is to do a three-card spread. Instead of pulling a single card, you pull three cards. These are meant to represent your past, present, and future. While you're not telling your own future, you can use this when it comes to your writing.
It's especially helpful when planning for your characters. You can pull with them in mind, to see what's in store for them. Where have they come from, and what have they experienced? What's going to happen in the story? How will they act moving forward? It's a way to focus on who that character is, and how they'll react to the story moving forward.
Have the character in mind as you pull the cards, and think about them and what they want as you do so. When you're fully in their mindset, you can interpret the cards as them, so you can get a better idea of who they are.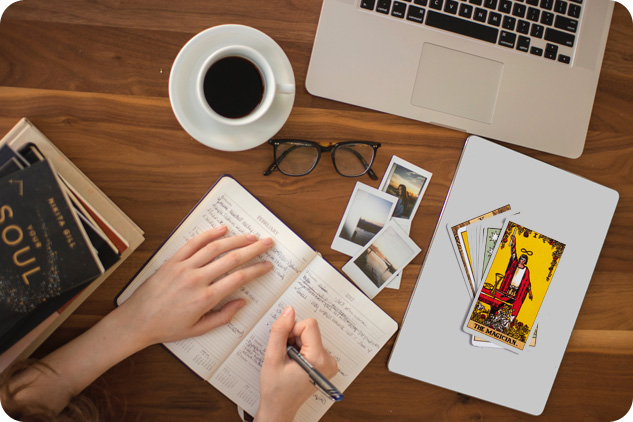 Making Choices
Is your character stuck and needs to make a choice? Not sure which way they should go? You could flip a coin, but that can be too simplistic. Instead, try pulling a tarot card.
You can pull just one card, and see what's on it. It may show that one path to take is the better one for the story. It may also present a third option to you, one that you hadn't considered before now. That may be the way you want to take the scene, so be open to a change.
You can also pull two cards, one for each choice the character can make. That allows you to see what would happen with each choice. You can even write a short summary of each path, and see where they'd lead your character.
These are just a few ideas as to how to use the tarot to overcome writer's block or enhance your creative writing projects. It's a great way to jump-start your imagination and think about what it is that your story needs.
Sara Sparrow is a writer with Do my coursework, where she covers fiction writing techniques.