Tips to Understanding Ace Tarot Cards: There is no trick to understanding ace Tarot cards once you mentally arrange the placement of these cards within the hierarchy of the deck.
In other words, the aces are situated at the beginning of each suit. As such, they have the important job of introducing the passion and feel of each suit.
For example, the suit of cups delves into the territory of love, emotions, psychic awareness, and movement in our lives. The ace of cups then is a symbolic calling card and a representative for these aspects of the human cycle marked by the suit of cups.
Aces are the prime root of the suit they describe and reflect the brightest, highest energies of their ilk. Imagine each ace as rolling out the red carpet for their suit – a grand fanfare and introduction for the players on the stage of life within their specified realm.
Here are some key words for aces that may further help you in understanding ace Tarot cards meaning and importance:
Focus
Action
Energy
Beginnings
Opportunity
Clean Break
Initiation
The aces hold that starting-line position at the head of the pack. They fire the runner's gun to signal the beginning of a whole new race of emotions, conditions, life-events, and concepts. As such, they set the mood, tone, and symbolism for the entire suit.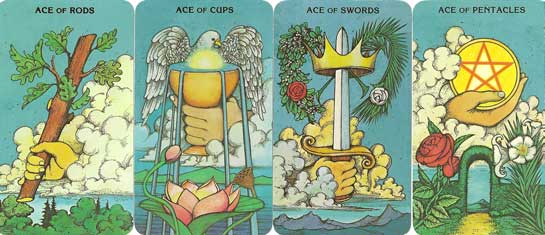 Looking at the ace line-up images above (Morgan-Greer deck, permission to use images granted by U.S. Games, Inc.), we can see that the access do their job at introductions quite effectively.
To further consider these concepts, follow these in-site links below for individual ace Tarot card meanings:
Fully understanding ace Tarot cards requires an investment in your time, imagination, and attention. The more time you spend exclusively exploring the aces, the more you will discover that they weave an intricate web of symbolic patterns and meanings throughout the entire deck.
Aces are power players on the Tarot stage. Their meanings are far-reaching in dynamic physical, emotional and mental realms of humankind. Meditate upon these cards, and new insights will abound…guaranteed!
I trust this information on understanding ace tarot cards helps you on your path.