Meaning of Tarot
Do a little research and you'll find the prime meaning of Tarot varies wildly according to opinion. Search the internet, scour the books – odds are you'll come away with your head spinning instead of getting a clear insight as to the true meaning of Tarot.
This is because defining the Tarot is the responsibility of the one attempting to define. Simply put, its meaning is in the eye of the beholder.
Why? Because the Tarot is inextricably linked to
our psyche
our creativity
our perceptions
our belief systems
One would go so far as to say the Tarot is connected to our ancestry and consciousness.
Each of us will define the meaning of Tarot in a different way because we are each unique with varying perspectives. Here's a technical definition:
Ta-rot:
Pronunciation: [tar-oh, ta-roh]
"A card deck that is used for divination, self-help, development of intuition as well as spiritual and psychic growth."
Excerpted fromThe Element Encyclopedia of the Psychic World (The Element Encyclopedia series) by Theresa Cheung.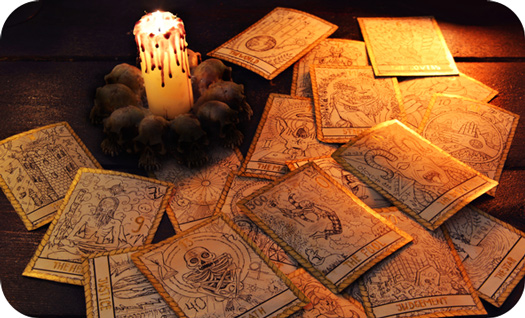 The history of the Tarot is steeped in allegory. Meaning, its original creation revolved around telling the story of the human condition. At the time of the Tarot's creation, people were very keen on the concept of allegory. They were intimate with events and emotions, and quite easily personified these emotions.
Part of its power comes from the visual concepts the Tarot provides. Emotions are such elusive things – but when we look at the Lovers card – we have no doubt about the message. That card portrays an unmistakable physical image we can associate with the emotion of Love.
Furthermore, there is much agreement that the Tarot represents the gamut of emotions and circumstances that can be experienced in human life. Each of the 78 cards covers an aspect of the human condition.
Although the meaning of Tarot is diverse according to opinion – most of us can agree on what it represents – our lives as humans – a mirror reflection of all our joys, struggles, fears, passions, growth etc. We could even say the Tarot cards reflect acts and scenes played out in the great human drama.
Links to a Dictionary of Tarot Terms
Tarot Meanings Dictionary A – G
Tarot Meanings Dictionary H – P
Tarot Meanings Dictionary Q – Z