About Seven of Pentacles
Meaning in Tarot
Continuing in the spirit of giving as seen in the preceding pentacles card, the seven of pentacles indicates we've followed through with our intentions. Now is a time of purveyance.
The magic of manifestation has taken root; our triumph grows with Amazonian fervor. It's not really magic though. We know our toil and focus created the physical product – our lush, lavish rewards.
Some blooming keywords for the seven of pentacles Tarot card meaning:
Focus
Reward
Allowing
Reflection
Flexibility
Awareness
Recognition
Reevaluation
Contemplation
Nurturing the dream
The presence of the seven of pentacles in a reading typically comes after a time of back-breaking endeavor. We'll often see confirmation of this in supporting cards, indicating health or financial ruin. That ruin inevitably caused our re-commitment to command our focus on shifting our inner landscape to create a mutually satisfying outer experience.
We did it. We hunkered down and now reap the harvest of the heart. This card indicates a time for reflection and appreciation. It's time to recognize the triumph. Time to savor the accomplishments we've earned.
Moreover, the seven of pentacles urges us to re-evaluate our position. How so?
In Business:
Revisit our Mission Statement
Reevaluate the use of our resources
Take a hard look at consumer opinions
In Finance:
Reexamine retirement, investment or savings plans
Take a second look at personal spending habits
In Health:
Reconsider our current diet
Check in with our bodies confirming optimal performance
Ask deeply and inwardly about current health status; observe responses
Just check in. This is what the seven of pentacles Tarot card meaning signifies. Tapping into the ground roots that anchored themselves according to our will. We may find, after tapping in, that no changes need to be made. Contrarily, we may discover our objectives have changed (as often happens during growth). It may be time to adjust our vision.
Foremost, the seven of pentacles asks us to be easy with our observations. This is a time of savoring and enjoying the sweetness we've allowed into our lives. Looking over our bounty with a scrutinizing or criticizing eye is counterproductive. We can choose to be easy with the natural flow of our evolution. In this manner, if we detect a call for change, it can be implemented in a smooth, organic fashion.
Some symbols growing out of the seven of pentacles Tarot card meaning: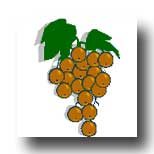 Grapes/Grapevines: Symbol meanings of grapes and grapevines deal with fertility, abundance, transformation and blessing. Considered the fruit of the earth in both pagan and Christian circles, the grape is rich in symbolism. Bunches of grapes have long been depicted in funerary art and are symbols of redemption. Grapes and grapevines are also found in Greco-Roman art as symbols of hospitality, bounty and symbolic of youthfulness. All of these attributes come into play when we see these power-packed fruits in the cards.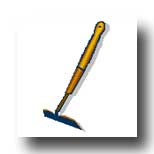 Hoe: Yes, this is a tool, and as such its symbolism deals with work, resourcefulness, accomplishment. But the hoe is also a message telling us we can make our way easier by using the resources (tools) that are available to us. The hoe is also connected to the old adage "what we sew so shall we reap." When the hoe pops out at us in the seven of pentacles we might do well to consider what kind of sewing we are doing and how we are utilizing our resources (are we doing things the hard way, or should we recruit some help).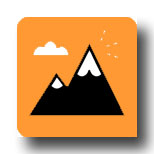 Mountains: Seen on many of the cards, mountain symbol meanings deal with triumph, challenge, attainment, and realization. Mountains also represent timelessness and an endurance that is infinite. When those mountains peak out of the cards into our attention, we may consider the vastness of our universe, and contemplate our place within it. We may also want to consider the heights to which we are climbing, and what the realization of our goals may mean for us and those around us.
Some questions sprouting from the seven of pentacles:
How do I feel about change?
Can I be honest with myself about my situation?
What do I think about the concept of "value" and "worth?"
Can I truly self-appreciate, and recognize a job well done?
Is it time to rest up and prepare for my next challenge?
Can I allow myself a time of quiet reflection and approbation?