About Nine of Pentacles
Meaning in Tarot
As we continue to build meaning from preceding cards, one on top of the next, we now come to a spectacular culmination in the nine of pentacles.
I love this card for the refinery, class, and style it represents. The card indicates we've identified the roots of our passion, trained those roots with constant care so as to produce significant and remarkable gifts of core wisdom, vitality, and freedom.
The themes of liberation from the conventional are rampant in the nine of pentacles. Note the opulence, the lushness of growth, and sensuality. There is no hesitation in embracing the material gifts. There is no question of authority in matters of acumen and skill. No doubts inhibit the natural order and flow of growth and increase.
Some keywords to enhance the nine of pentacles Tarot card meaning:
Growth
Training
Nobility
Stability
Assurance
Confidence
Expansion
Prosperity
Equilibrium
Refinement
Attunement
Creative focus
Tactile sensuality
Validating the notion of authority is the presence of the falcon (peacocks in some deck renditions). Falconry has long been the sport of royalty in which falcons and other raptors (like hawks) are trained for hunting purposes. So intense was this activity, that in Medieval times crimes of injuring or stealing prized raptors were punishable by death.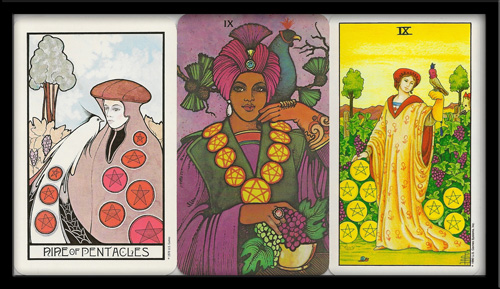 Further, the falcon sports keen intellect and inexhaustible focus. This made them ideal for trained hunting events. Their ability to hone in on their target is superior. We can take symbolic cues from this in the nine of pentacles Tarot card meaning.
When this regal bird waves its plumage to our psychic eyes it indicates we have engaged in focusing on very specific aims. We've invested in the personal training of our senses with a goal to achieve results. These results have certainly come to bear fruit as the energy in the nine of pentacles card reflects.
We intuit elements of balance and rooted footing as we see equidistant trees in the background of the Waite (left card in the trio) version. Moreover, the grape clusters pervading the scene indicate a network of connections made within a mutually nurturing community to seal that feeling of success and acceptance in our endeavors.
The high-minded and beneficent symbolism in this card is epic (a few symbolic highlights are below listed). Invest the time to meditate on the nine of pentacles and see where this card grounds you in your visions.
There should be no question, this card marks the path of a well trained, highly attuned and successful traveler whose rewards are strewn at every pace.
Some symbols soaring out from the nine of pentacles Tarot card meaning: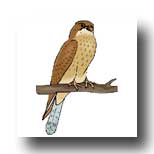 Falcon: Throughout culture and myth the falcon symbol meanings have pertained to a higher vision, superiority, and rising above the mundane. A common sun symbol among many cultures, the falcon also symbolizes potency, vibrancy, and power. When Falcon catches our attention on the nine of pentacles, we are prompted to consider if we are living our lives in-line with our vision. Are we living at our highest potential? The falcon asks us to fly high and blaze the sky with our own brilliance. For more info on the falcon, see my Falcon Meaning in Tarot.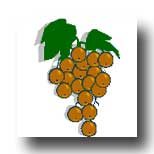 Grapes/Grapevines: Symbolic meanings of grapes and grapevines deal with fertility, abundance, transformation, and blessing. Bunches of grapes have long been depicted in funerary art and are symbols of redemption, honor, and glad-tidings. Grapes and grapevines are also found in Greco-Roman art as symbols of connectivity, hospitality, bounty, and vitality. All of these attributes come into play when we see these power-packed fruits in the cards.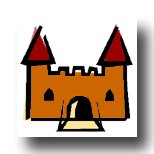 Castle: Castle symbol meanings deal with goals. Castles are physical representations of our need to build (block by block) upon a strong foundation in order to obtain our goals. Castles may also deal with sheltering ourselves or limiting ourselves from reaching our goals. They are also a symbol of obtaining our desires within the whole (community). More about castle symbolism in the Tarot here.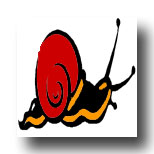 Snail: Snail symbol meanings deal with steady footing and stability. Snails carry their homes upon their backs which is symbolic of carrying our security in our hearts (security and happiness being an inside job). Not only sure of foot, snails are also symbols of slow (but steady) progress. Featured in the 9 of Pentacles, we understand stability and success do not appear overnight. Rather, success often comes at a snail's pace. I also love the spiral connotation – that motif found in the shell of the snail. Spirals signify a radiating consciousness and an inner-centeredness that exudes outwardly. Ideally, that brilliant core emits positive change in the environment and community. More about snail symbolism here.
Questions to feed our hunting minds in the nine of pentacles Tarot card meaning:
How do I feel about affluence?
Am I an effective energetic conduit?
How can I be sure my aim is always true?
Am I listening to the small voices within?
What role does aristocracy play in community?
How can I balance my tasks and goals more effortlessly?
What's the next level in my personal growth and evolution?
What is my true focus and am I devoted to train my vision in that direction?