About Four of Pentacles
Meaning in Tarot
Line up each suit in chronological order and you'll get a story. When it comes to the four of pentacles, the story hits a point of sitting on what has been gain and not letting go…to the point where it might be unhealthy.
To get a better story of the four of pentacles we back up one chapter. The third pentacle card points out our tremendous commitment to hard work at our craft and/or forging our will.
In fact, we worked so hard that we've manifested some pretty lucrative rewards. The four of pentacles reflects our success and just rewards for all our efforts. At last, we are in the money, in the pink, high on the hill. What's more, we have only ourselves and our own ingenuity to thank for our success.
Or do we?
Our hero isn't smiling, and there's a sense of isolation from the community in the card. It's a common trap that many well-meaning, ambitious entrepreneurs or hard-focused individuals fall into.
To be successful, we often need to put blinders on and focus on only the path that leads to results. There's nothing wrong with this, as long as we don't neglect the community we support, and who supports us in return.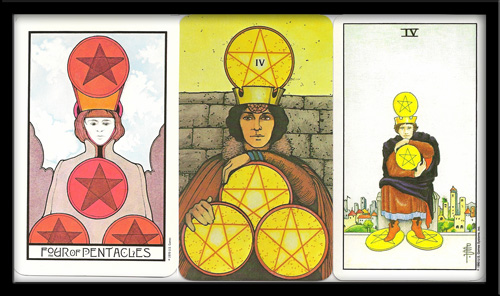 Once upon a time, open communication with that community but somewhere along the way we closed off that correspondence. Ideally, our motivations for success include the well-being of everyone involved. But during months and years of hard-nosed focus on the prize, sometimes we lose sight of the needs of the tribe.
Some Keywords Fitting for Four of Pentacles Tarot Card Meanings:
Gain
Greed
Pride
Tight
Stingy
Closed
Limited
Isolation
Hoarding
Insecurity
Blockages
Immaturity
Constipation
Shortsighted
Incompletion
Self-interested
When the four of pentacles comes up in a reading we know we've been stingy with our time, or money, and our presence in the lives of those around us. No need to have guilt; it happens.
Just break the wall of isolation and get the flow going again in your life by giving equal or more than what you've received. Remember, this is an inclusive universe. By giving openly, honestly, you're insuring your perpetual gain.
Some Symbols Enhancing the Four of Pentacles Tarot Card Meaning: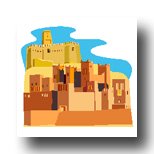 City/Village: Cities and villages represent centers or gatherings of people, thoughts, energy, and ideas. They are a symbol of the culmination of a group that meets for a common goal. They also symbolize protection, harmony, and team-work. When you notice the cities/villages in a reading it indicates a group effort is required, or the querent must tap into some energy centers or thought centers to accomplish what he/she must. See more about city symbolism in the Tarot here.
Walls: Simply put, walls deal with separating one area from another. Why we feel the need to separate ourselves might need to be considered. Walls also symbolize holding ourselves back, or positive events have been prevented from flowing forth due to negative, exclusions, or incorrect thinking. When we see the brick wall it is a message we might need to get in a state of allowing in order for the good to shine upon us. It also indicates we mustn't hold ourselves back or sell ourselves short. See also the "wall" meanings in the Tarot.
Some Questions the Four of Pentacles Proposes:
Where are my blockages?
Why am I withholding?
How do I feel about giving?
How do I feel about being of service?
Where is my focus, and do I need to readjust my vision?
Why do I feel isolated?
What is gained from separation?
How is hoarding my resources serving me?